Real-time Health Equity Intelligence

Improving NICU Care By Identifying Disparities
Consistent quality of care in the NICU starts with identifying which patient or populations could benefit from additional vigilance and standardization of care.  By identifying care disparities through real-world data, clinicians can improve care, reduce preterm infant co-morbidities and provide equitable, consistent care considering standards of infant nutrition, discharge parameters, and overall patient outcomes.
Track Care Metrics
Real-time to Assess Equitability
Identify Patients That Require Additional Support
Inform and Measure
QI & Health Equity Programs

NICUtrition® ECI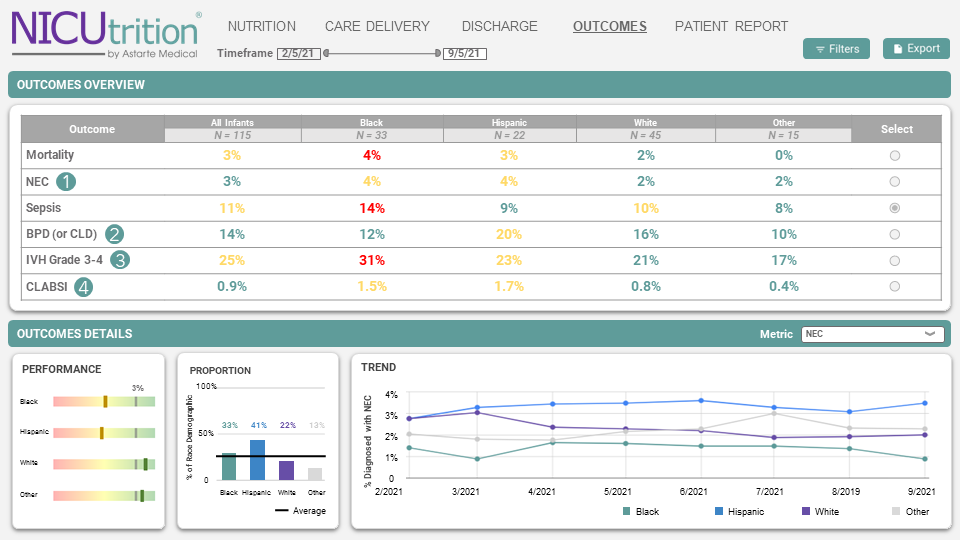 NICUtrition Equitable Care Intelligence (ECI) is an EMR-integrated platform that monitors care and associated outcomes of preterm infants.  ECI enables unit-wide tracking of key care performance metrics by race and ethnicity throughout the patient journey from birth to discharge.  Our Patient Report enables the NICU team to assess health equity provision at the patient level, against the unit as a whole, by gestational age cohort and compared to racial or ethnic peers.  
The Nutrition and Care Delivery dashboards allow clinicians to identify which patient populations require additional attention during their stay in the NICU.  The Discharge and Outcomes dashboards track infant mortality and comorbidities and disparities at discharge by race and ethnicity.